HARD ROCK CAFE ROME
Via Vittorio Veneto 62 A/b , 00187 Roma (RM)
HARD ROCK CAFE ROME
Ristoranti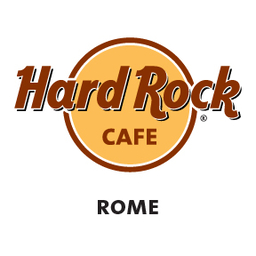 Placed in the middle of the elegant street of the Roman "Dolce Vita", Hard Rock Cafe Rome is an exclusive location for companies looking for authentic experiences filled with energy and great vibes.

The historical building in Via Veneto has room for up to 400 people for private and corporate events of different kinds: conferences, new product & service launch, team building, training, team games, gala dinners, incentive, aperitifs, birthdays, dancing & live music events.

The staff has a strong background and experience with planning parties that include catering and customized entertainment. The Chef at Hard Rock Cafe Rome is great at combining menu with classic items from the American cuisine that have made Hard Rock Cafe a famous and successful chain of restaurants in the world, whether the Rock Shop allows to add collectible souvenirs and merchandising that upon request can also be co-branded.

The location is also a true music museum thanks to the original memorabilia on expo all around the venue, while creating a unique atmosphere they give the feeling of going through the history of music. Among the most popular memorabilia it is possible to admire a classic dress by David Bowie, a Fender telecaster guitar signed by Bruce Springsteen, the grey trench from John Lennon during his hyper-political period in the '70s and an amazing patchwork suit worn by Jimi Hendrix as festive outfit during the infamous Isle of Wight festival, where he held his last concert on August 31st, 1970.
FUNCTION ROOM


| | | |
| --- | --- | --- |
| | Teatro | 70 lugares |
| | Pupitres escolares | 40 lugares |
| | Herradura | 50 lugares |
| | Banquete | 30 lugares |
| | Cocktail | 80 lugares |
| | Escenario Fijo | Sì |
| | Luz natural | No |
GAZEBO


| | | |
| --- | --- | --- |
| | Teatro | 60 lugares |
| | Pupitres escolares | 40 lugares |
| | Herradura | 30 lugares |
| | Banquete | 20 lugares |
| | Cocktail | 60 lugares |
| | Escenario Fijo | No |
| | Luz natural | Sì |
MAIN ROOM


| | | |
| --- | --- | --- |
| | Teatro | 150 lugares |
| | Pupitres escolares | 100 lugares |
| | Cocktail | 300 lugares |
| | Área | 200m² |
| | Escenario Fijo | No |
| | Luz natural | Sì |