AUDITORIUM DELLA TECNICA
Viale Umberto Tupini 65, 00144 Roma (RM)
AUDITORIUM DELLA TECNICA
Centro Congressi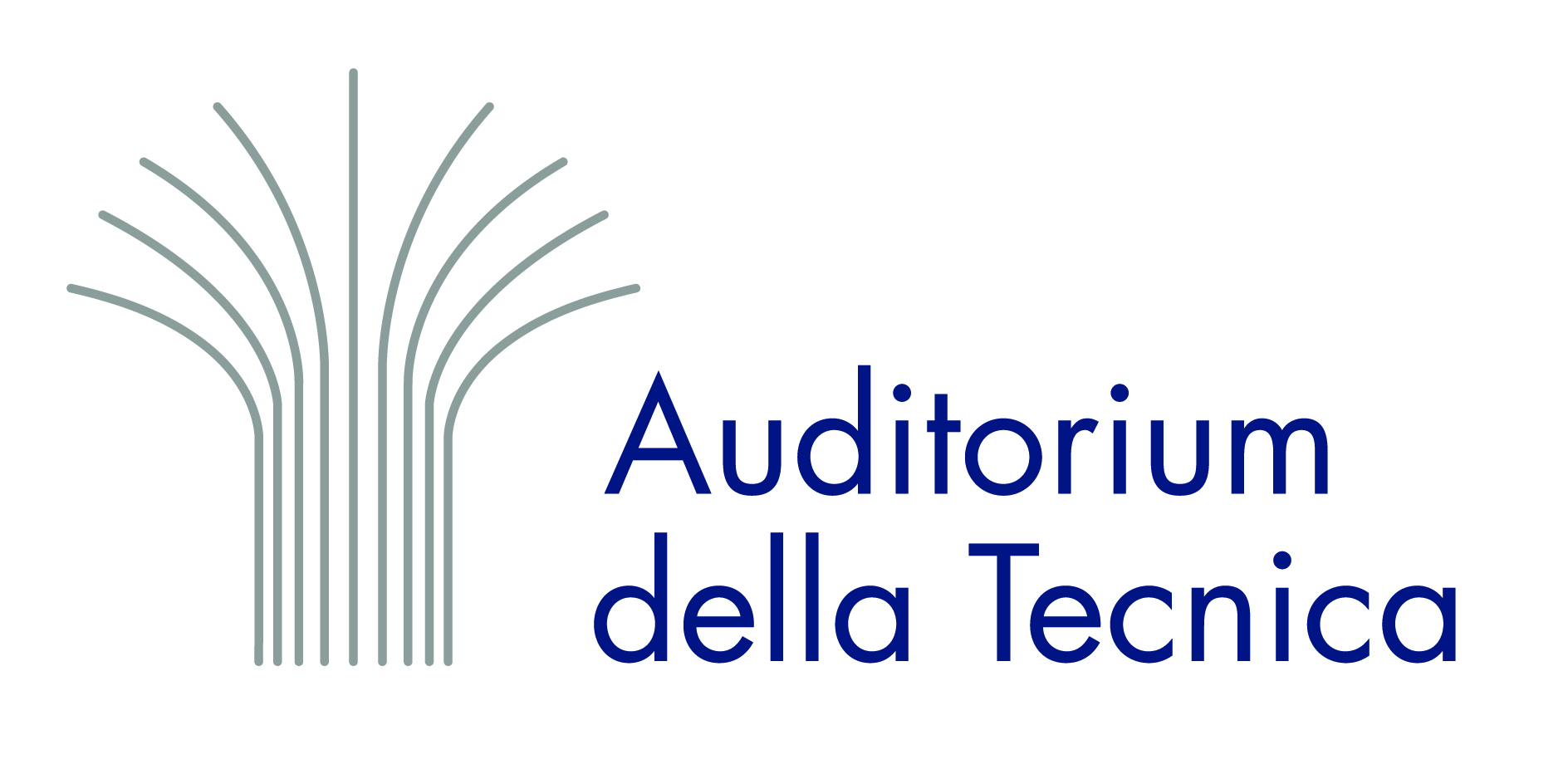 Auditorium della Tecnica, located in the advanced EUR business district, was designed by architects Vincenzo Monaco, Edoardo Monaco and Pier Luigi Spadolini. It was inaugurated on May 30th, 1974 and for over 40 years has played an important role in terms of efficiency in the conference field.
The restyling, completed in the first half of 2016, has reinterpreted it in a contemporary key and, thanks to its technological equipment, has made it an avant-garde structure on the national and international scene.
The Auditorium has a maximum capacity of 800 seats and consists of a modular and removable stage, Speaker table and podium. The central, lateral and videomapping video projection system, together with the sophisticated lighting and audio equipment, make the room multifunctional and suggestive.
Guests have access from the main entrance of the Foyer, where there are 2 hospitality desks, the bar and the cloakroom, and 7 VIP rooms for meetings and parallel sessions. Close to the Foyer, an exhibition and catering services area of 1,200 square meters.
The Congress Centre, connected to the Auditorium, has an additional 18 meeting rooms, some with movable walls, with capacities from 5 to 250 people.
Finally, the Capogrossi Terrace, 2,230 square meters uncovered and panoramic, an exclusive location for aperitifs and gala dinners between Palazzo della Civiltà Italiana and Basilica of Saints Peter and Paul.
Meeting halls

Meeting halls
26

Minimum capacity
5 places

Maximum capacity
1580 places

Capacity of the Plenary Hall
800 places
Auditorium della Tecnica


| | | |
| --- | --- | --- |
| | Theater | 800 places |
| | Height | 6mt |
| | Area | 750m² |
| | Fixed Stage | No |
| | Natural light | No |
A. Pininfarina


| | | |
| --- | --- | --- |
| | Theater | 150 places |
| | Width | 20mt |
| | Area | 300m² |
| | Depth | 13 |
| | Floor | 1 |
| | Fixed Stage | Yes |
| | Natural light | Yes |
SALA A


| | | |
| --- | --- | --- |
| | Theater | 180 places |
| | Horseshoe | 60 places |
| | Single table | 30 places |
| | Cocktail | 225 places |
| | Width | 18mt |
| | Area | 200m² |
| | Depth | 11 |
| | Floor | 1 |
| | Fixed Stage | No |
| | Natural light | Yes |
SALA GH


| | | |
| --- | --- | --- |
| | Theater | 250 places |
| | School desks | 80 places |
| | Horseshoe | 70 places |
| | Single table | 60 places |
| | Cocktail | 225 places |
| | Width | 290mt |
| | Area | 287m² |
| | Depth | 11 |
| | Floor | 1 |
| | Fixed Stage | Yes |
| | Natural light | Yes |
SALA P


| | | |
| --- | --- | --- |
| | Single table | 20 places |
| | Banquet | 20 places |
| | Width | 7mt |
| | Area | 92m² |
| | Depth | 11 |
| | Floor | 1 |
| | Fixed Stage | No |
| | Natural light | Yes |
SALA Q


| | | |
| --- | --- | --- |
| | Theater | 80 places |
| | Horseshoe | 40 places |
| | Single table | 30 places |
| | Banquet | 40 places |
| | Cocktail | 100 places |
| | Width | 11mt |
| | Area | 106m² |
| | Depth | 9 |
| | Floor | 1 |
| | Fixed Stage | No |
| | Natural light | Yes |
SALE B | C | D | E | F | K | I | L | M | N


| | | |
| --- | --- | --- |
| | Theater | 25 places |
| | Horseshoe | 20 places |
| | Single table | 20 places |
| | Cocktail | 30 places |
| | Area | 50m² |
| | Floor | 1 |
| | Fixed Stage | No |
| | Natural light | Yes |
SALE BC | EF | IL | LM | MN


| | | |
| --- | --- | --- |
| | Theater | 50 places |
| | Horseshoe | 30 places |
| | Single table | 30 places |
| | Cocktail | 60 places |
| | Area | 80m² |
| | Floor | 1 |
| | Fixed Stage | No |
| | Natural light | Yes |
SALA ILM | SALA LMN


| | | |
| --- | --- | --- |
| | Theater | 70 places |
| | Horseshoe | 40 places |
| | Single table | 40 places |
| | Cocktail | 90 places |
| | Width | 15mt |
| | Area | 120m² |
| | Depth | 7 |
| | Floor | 1 |
| | Fixed Stage | No |
| | Natural light | Yes |
SALA ILMN


| | | |
| --- | --- | --- |
| | Theater | 90 places |
| | Single table | 60 places |
| | Cocktail | 120 places |
| | Width | 21mt |
| | Area | 155m² |
| | Depth | 7 |
| | Floor | 1 |
| | Fixed Stage | No |
| | Natural light | Yes |
SALA G


| | | |
| --- | --- | --- |
| | Theater | 130 places |
| | School desks | 60 places |
| | Horseshoe | 50 places |
| | Cocktail | 150 places |
| | Width | 11mt |
| | Area | 175m² |
| | Depth | 15 |
| | Floor | 1 |
| | Fixed Stage | No |
| | Natural light | Yes |
SALA H


| | | |
| --- | --- | --- |
| | Theater | 80 places |
| | School desks | 30 places |
| | Horseshoe | 40 places |
| | Cocktail | 100 places |
| | Width | 10mt |
| | Area | 112m² |
| | Depth | 10 |
| | Floor | 1 |
| | Fixed Stage | No |
| | Natural light | Yes |
Video Gallery
QR Code